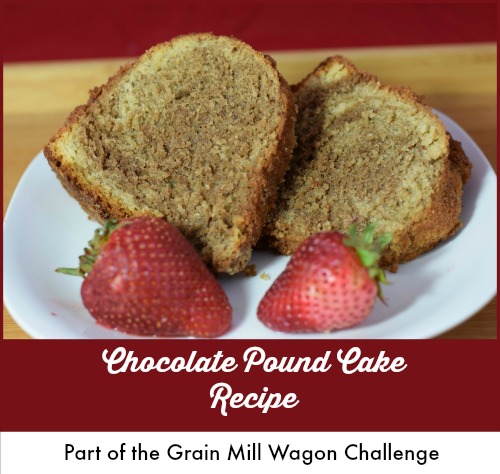 As some of you may remember, I have been having quite a bit of fun grinding my own flour at home as part of the Grain Mill Wagon Challenge.  Just about every recipe I have tried has turned out perfectly with the flour, which has pleased me quite a bit! I never imagined that milling my own flour with my Wondermill Grain Mill would not only be easy, but save so much money on flour. While I have experimented mostly with bread up until this point, I thought it was time to see how this flour did with cakes.
After doing inventory in our fridge and pantry to see what ingredients I had in the house, I realized this would be the perfect time to make a pound cake. It has actually been years since I had one, so I thought it would be fun to experiment and make a delicious treat out with my newly milled flour. In the end, I had a truly delicious cake that was not only sweet, but had a nice chocolate flavor. The only problem we have had is that that we now have a lot of cake for a girl who is on a diet. I guess I may just have to make the sacrifice and eat some more of this delicious cake!
Before making this cake, just make sure you have a sifter if you are milling your own flour. Most of the flour we buy in stores is pre-sifted anymore, meaning this is a step that many people forgo. When you are milling your own flour, however, this is an important step – at least, it is if you don't want to have an extremely dense cake. For example, 2 cups of freshly milled flour turns into about 3 cups of sifted flour. You don't want to overdo it, so be careful!
If you decide to make this pound cake, please come back and tell us what you think. We love to hear what our readers think about our recipes!
Print
Chocolate Pound Cake
A chocolate version of the classic pound cake. This cake is perfect for family gatherings.
Author:
Prep Time:

20 mins

Cook Time:

1 hour 15 mins

Total Time:

1 hour 35 mins

Category:

Dessert
4

oz

Bar of Semi-Sweet Chocolate (I use Ghiradelli)

3

cups

Milled White Wheat Flour or All Purpose Flour (sifted)

1 1/4 tsp

Baking Powder

1

lb

or

4

sticks

of Butter (room temperature)

2 1/2

cups

Sugar

2 Tsp

Pure Vanilla Extract

10

Eggs (room temperature)
Instructions
Preheat the oven to 350 degrees.
Grease and flour your Bundt cake pan. Set aside.
Grind your flour in the Wondermill Grain Mill.
In a bowl, sift your flour. This is a very important step, don't skip it! If you don't pre-sift the flour the cake will be very dense.
Mix the baking powder with the flour and set aside.
With a stand or hand mixer, cream the butter and sugar until it's nice and fluffy.
Add the vanilla and eggs to the butter mixture. Mix well.
Start slowly adding the flour to the butter mixture. Do this at a low speed to avoid a mess.
Break the chocolate in a microwave safe bowl and heat until melted. Set aside.
Pour half the batter into a greased pan. Pour the chocolate in the remaining batter and then gently pour into the pan on top of the non-chocolate layer.
With a spoon, gently swirl the batter, mixing the two layers. Do this slowly and only go around the pan once. This will create a chocolate swirl or marbled look in your cake.
Bake for an hour and 15 minutes in the oven. The cake will be finished when a cake tester comes out clean.
Let set for 15 to 30 minutes before removing the cake from the pan. Let cool before serving.