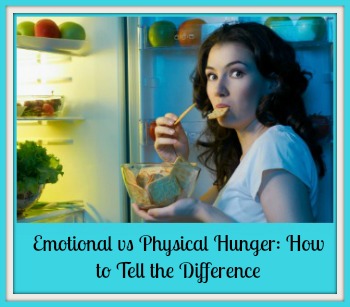 Confession: I may or may not have just downed the last of my dark chocolate stash.  I miss my little sister, who's been away nearly the entire month at summer camp.  I'm anxious about seeing my long distance boyfriend again in two weeks.  I'm not 100% how fully prepared I'll be for a convention I'm attending in just over a month.  Confession: sometimes I use food as more than a means to fill my stomach.  It's no secret, though, that food can help satisfy our feelings.  Consider a high school student who stress eats during exams, or a broken-hearted individual who tries to drown her loneliness in ice cream.  When your stomach isn't growling and you try to satiate your feelings with comfort food, that's what is considered emotional eating.
Everyone comfort eats now and then, and small doses of it aren't necessarily physically dangerous.  It can be problematic, however, when your stress eating develops into a habit and becomes the primary way that you soothe yourself (especially if the foods you're choosing aren't very healthy).  You likely have already noticed that any benefits you experience through emotional eating are short-lived.  Often, you may even look back and feel regret toward the food choices you made when physical hunger was not the one directing your appetite.  But how do you distinguish whether your stomach or your emotions are in control of your hunger?
Emotional Hunger
Emotional hunger can be powerful, which is why it's easy to mistake it for its physical counterpart.  Fortunately, there are clues that can help you determine which is which.  Here are some questions to ask yourself in order to help identify if what you're feeling is emotional hunger:
Did my hunger hit suddenly?  Emotional hunger is an overwhelming, urgent feeling that hits instantaneously.  For example, maybe you smelled the brownies your sister is baking or maybe you walked into the movie theater and caught the aroma of salted, buttery popcorn.
Are you craving specific comfort foods?  Emotional hunger generally causes you to crave junk food or snacks that provide an instant rush.  Suddenly, you need those cookies or that pizza and nothing else will satisfy you.
Are you aware of what you're eating?  When eating emotionally, often you aren't very aware of how much you're eating.  You can finish a roll of cookie dough or a family-sized bag of potato chips without realizing or fully enjoying it.  Comfort eating tends to have a mindless component to it, causing you to eat mechanically.
Am I satisfied?  You don't really feel full when eating emotionally.  You can eat past the point of feeling stuffed, yet still feel unsatisfied.
Where do I feel my hunger?  Interestingly enough, people identify their physical hunger in different ways.  It may be a gnawing feeling in their stomach, a light-headedness, or something else entirely.  Emotional eating, on the other hand, results in a craving you can't get out of your head. You tend to focus on specific textures, tastes, and smells.
Do I feel regret, guilt, or shame?  Feeling guilty after you eat is likely due to knowing that you're not eating for nutritional reasons.
Physical Hunger
The same questions can also help identify whether the hunger you're feeling is physical, as opposed to emotional hunger.  Again, consider the following:
Did my hunger hit suddenly?  If the answer is no, you are likely experiencing physical hunger, which occurs more gradually.  Your urge to eat won't feel as dire or demand instant satisfaction (unless you haven't eaten for a very long time).
Are you craving specific comfort foods?  Could you eat an apple?  Hamburger soup?  Donuts?  When you're physically hungry, anything sounds good… including healthy options.  Yes, you may have preferences, but true hunger leaves you open to alternatives because your only goal is to be fed.
Are you aware of what you're eating?  Are you paying attention to how the food looks/smells/tastes as you eat it instead of wolfing it down?
Am I satisfied?  You don't feel the need to be stuffed; you're satisfied with just feeling full.  It may be helpful to consider the Bob Greene Hunger/Fullness Awareness Scale when learning to recognize your level of hunger before and just after you eat.  Generally, it is advised to eat when you're at a "3" and to stop at a "6" or "7."  Waiting until you are at a lower level before eating can lead to overeating or eating too fast, which in turn could leave you at the other end of the chart (feeling uncomfortably full).
Where do I feel my hunger?  Physical hunger is more centered in the stomach.  It may be helpful to consider how long ago it was since you last ate, and whether your body is sending you clear signals that you are hungry.  Are you low in energy?  Maybe you're experiencing hunger pangs, an emptiness in your belly, or heard your stomach growling. 
Do I feel regret, guilt, or shame?  Eating to satisfy physical hunger is unlikely to result in any of these feelings because you are simply giving your body what it needs ("eating to live" versus "living to eat"). 
Remember: while food may seem to help address what's bothering you, it does its best work feeding your body, not your emotions.