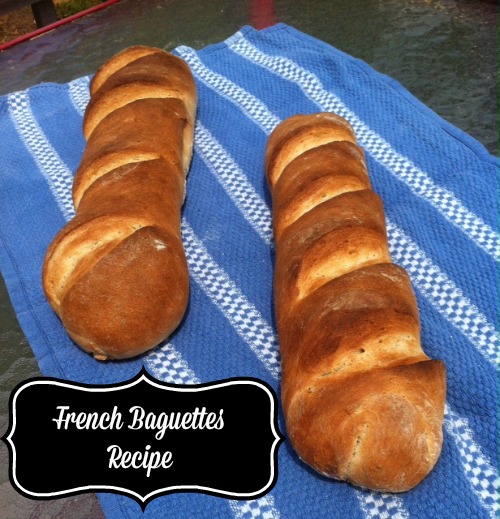 There were some babies visiting my parents over the weekend.
Bread babies, that is.
I never expected to be proficient enough at baking to make French baguettes (they look so intimidating!), although I'd eat them all the time growing up. In middle school my best friend and I were kind of obsessed with them. Every time we went with our parents to the grocery store we'd ask for a loaf of French or Italian. Some people think carbs are the devil, but bread and I have always been in a committed relationship.
Garlic bread was a staple alongside spaghetti dinners. My dad would buy those take-and-bake loaves from the grocery store, slice them up, and my mom would mix fresh minced garlic with melted butter that she would then drizzle on top before broiling in the oven until golden brown. Heaven forbid she ever burned them, though, because my brothers and I had a song prepared for when she did. It was short, but effective: "Mom burned the to~oast! Mom burned the to~oast!" It kind of became tradition…even when she didn't burn the toast.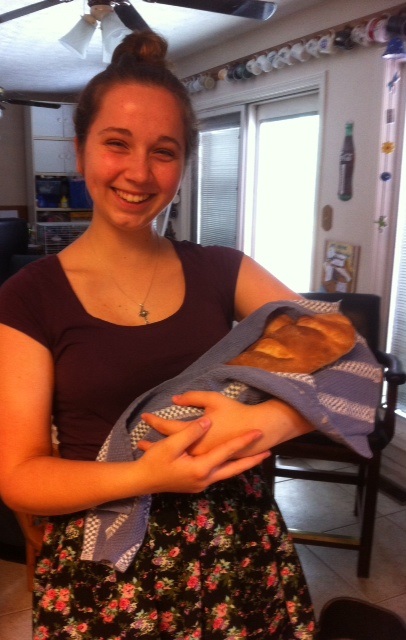 I can't remember the last time my mother actually burned the garlic bread, and for that matter I can't remember the last time we bought French baguettes from the store. Ever since my best friend and I discovered
this recipe
, it has spurred my own go-to for bread making. It is one of the few recipes I can make by heart. The loaves have a soft, chewy inside with a crisp, crunchy crust. It makes a great sandwich bread (my boyfriend and I recently brought them along for a picnic) and goes well with a variety of toppings, including melted swiss or cheddar cheese, but is also wonderful served as-is or with butter. This is also the bread I used in my
bruschetta
recipe. While it may seem complicated, I think the hardest step is probably just waiting for the dough to rise!
Print
French Baguettes
A delicious, easy to make French Baguettes recipe!
Author:
Category:

bread

Cuisine:

French
1.5

T dry active yeast

2

T honey

3.5

–

4

c

bread flour*

2

t salt

1.5

c

warm water

3

to

4

ice cubes
Instructions
Combine honey and yeast in a bowl with 1/2 c of warm water. Stir the mixture to incorporate and then allow to stand until foamy, about 6 to 8 minutes.
Mix flour and salt in a large mixing bowl. Slowly add in the yeast mixture, gradually adding one cup of warm water and mixing until the dough comes together into a ball of dough that isn't too sticky and wet. If the dough does seem too sticky, add a little more flour. You probably won't need the entire cup of water.
Turn the dough out onto a floured surface, kneading until smooth and elastic (2-6 minutes). You'll know it's ready when you can press in the dough with your thumb and it bounces back.
Form the dough into a ball and place it in a greased bowl. Cover with either a paper towel or a non-fuzzy dishcloth to keep the dough from drying out. Allow to rest in a warm environment** until doubled in size, about 30 minutes.
Punch down dough and divide it in half. Shape into two loaves (see below for the how-to) about 14 inches long by 2 inches wide, flipping the baguettes seam-side down onto a floured pan (you could also dust the pan with cornmeal, but my dad is allergic).
Score the tops of the loaves, creating deep diagonal slits about 1/2″ deep. Re-cover with the dishcloth and allow to rise until the dough is again doubled in size (about another 25-30 minutes). The loaves are ready to bake when they look puffy and ballooned.
Preheat your oven to 450 F. Position the oven racks so that one rack is on the bottom and the other is in the middle. Place a small oven-safe pan (do NOT use anything made of glass for this!) on the bottom rack while the oven heats. I've used everything from a round metal cake pan to a mini loaf pan.
Once baguettes have risen, remove the towel and quickly slide the tray with the baguettes onto the middle rack while throwing ice into the pan on the bottom rack. Quickly shut the oven door so that no steam escapes and bake until the bread is golden, about fifteen minutes.
Additional note: If your oven window is made of glass, you may want to place a towel over it when throwing in the ice. Hot glass may shatter if ice touches it, which is also why you shouldn't use glassware in this recipe. Trust me, I learned that the hard way.
Preferably, you'd take them out of the oven before they reach this stage of done-ness but these still came out beautifully.
How to Shape Baguettes
Gently, but firmly, pat bread dough into a rough rectangle.
Fold down the top third of the dough, then the bottom third of the dough, and pinch the edges together.
Use the palms of your hand to gently press and roll the loaf into a long baguette. Begin with your hands in the middle of the loaf and gradually move them to the outer edges of the baguette as you roll. I tend to roll my baguettes until they're as long as the pan I'm working them on (about 12-14 inches).
Fold in the ends so that they have that nice, rounded shape to them and you're done!
* All-purpose may be used instead, but I think bread flour lends a better tasting baguette. I also like to incorporate some white whole wheat flour for extra fiber and nutrition, substituting in about 1/2 cup to 1 cup.
** I like to leave mine in the oven with the oven light turned on.
Disclosure: This blog did not receive compensation for this recipe. All work and picture belong to Budget Earth.com & are not to be copied without our consent.
Would you like to have your products featured in a giveaway event? Want to increase your social media exposure? Contact susan.l.bewley@gmail.com to see how I can help YOUR company!