Disclosure: I received this product for free as part of a review for GoWallet. The opinions in my review are honest and my own.
Now that Halloween is over, I am prepping myself for the holiday season. I have to admit, I'm not looking forward to grocery shopping later today and hearing Christmas carols. Don't get me wrong, I love Christmas shopping, just not seeing Christmas everywhere before Thanksgiving starts. That being said, with so many stores already posting awesome deals leading up to Black Friday, I am planning on starting my Christmas shopping this weekend. I have been gathering up all of my gift cards from throughout the year and trying to find some awesome deals. The problem, however, is I've already lost hours trying to find places the right places to read my gift card balances. With all the partially used gift cards I have, I feel frustrated that there is no easy way to keep up with all of my cards. I was about to give up until I found out about a new smartphone app. – GoWallet. Wanting to learn more, I reached out to the company, who was excited to have me review their application and even gave me a $25 Applebee's Gift Card to prove that the app really was worth my time. As someone who loves technical solutions to my little difficulties, I was ready for the challenge!
GoWallet: What is It?
Wish you had something that let you keep up with all of your gift cards and would check balances for you every time you used them? If so, we think you will love GoWallet. This innovative new smartphone app allows you to store all of your gift cards in one easy to use application. Putting gift cards in their system is super easy! All you do is put in the button, the pin, and then watch as it pings the system to give you your current balance on that card. When you open the app, it even shows you all your current gift cards and their balances, allowing you to spend your money wisely during the holiday season. As well, GoWallet allows you to see exclusive store offers, and purchase gift cards that you can use yourself or send to friend and friends as an emergency gift. For proper security, you can also set a pin, making sure people don't use your gift cards if your phone is ever stolen. Another cool feature is that they even provide the contact numbers in case your card is lost or stolen while you are out. In other words, GoWallet is a must have tool for anyone who uses or gives gift cards!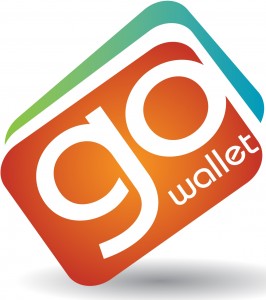 GoWallet: Ease of Use
I have to admit, I was surprised how easy GoWallet was to use. The hardest part was typing in all of my card numbers on my iPhone. Once I had all the information in my phone, it automatically started looking for balances. All of my gift cards pulled up balances, except for two – American Express and Barnes and Noble. Now, my Barnes and Noble gift card is over three years old, so I wasn't really too upset about that one. The American Express, I guess was more of security feature, but it did give me a number where I could quickly call into American Express's system to get that balance. Either way, most of it worked as designed, allowing me to have all of my gift cards in one easy to find place.
Now, to completely test the system, I was given a $25 Applebee's gift card. After all the nasty storms and a hard day of work, my husband took me out to eat, where we used this gift card. Since margaritas were on sale for Halloween, we got one of those to share, as well as their 2 for $20 deal. With drinks, our bill ended up coming to a little over $30. Immediately, I pulled up my app and gave them the gift card, wanting to see what would happen when the server used it. As I was pulling up the system, I was reminded that I had money on my American Express gift card – score! I hadn't even planned on using that gift card and GoWallet reminded me it existed! After the server collected our gift cards and extra money, I watched the app, seeing as the Applebee's gift card corrected itself, now showing a zero balance. So, because of GoWallet reminding me of the second card, we were able to have dinner for two, with drinks, for under $10, including tip!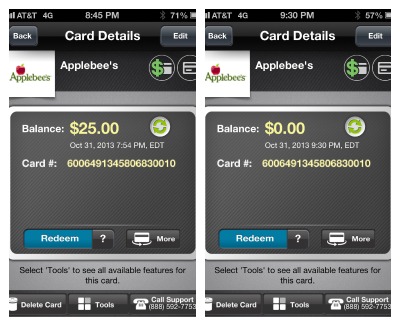 GoWallet: Overall
So far, I have to say I love GoWallet. It is so nice having one place where I can keep track of all of my gift cards. When I first heard of this app, I thought it would be just another app on my phone that would quickly be forgotten. Now, after using it and seeing how it saved me money, I think it's a must for everyone who has gift cards aroudn. While some stores do seem to have issues automatically updating the gift card amount, I think this will be quickly fixed in time. Based on my own experience, I am happy to give GoWallet an A rating!
GoWallet: Where to Find
Want to know the best part of GoWallet? It is totally free! You can download the GoWallet app in the Google Play store or through the Apple App. Store. If you don't have a smartphone, don't worry, you can also register for their service for free online. With the holidays being right around the corner, who doesn't need GoWallet?To get started, make sure to go register at GoWallet.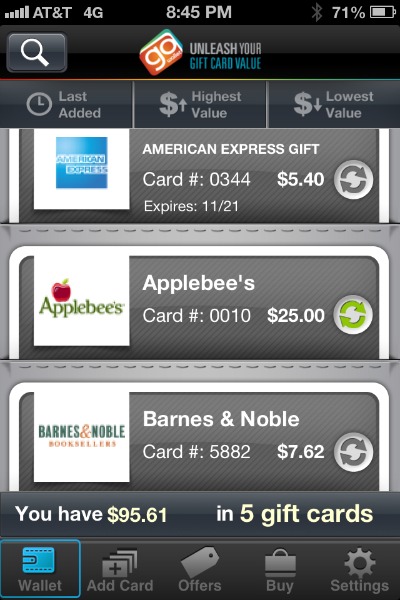 Disclosure: Budget Earth did receive compensation for this review and also receive a $25 Applebees Gift Card for review purposes. All opinions on this product are my own and may differ from our readers' opinions.
Would you like to have your products featured in a similar giveaway event? Want to increase your social media exposure before the holiday season? See how we can help! Contact susan.l.bewley@gmail.com to see what we can do for your company!