Note: Did you know that June is National Dairy Month? To celebrate National Dairy Month, we are working with the NFRA (a non-profit organization) and our friends at Resourceful Mommy. While this post was sponsored by the NFRA, all thoughts and opinions are my own.
Do you keep certain things in the fridge for those nights you just don't feel like cooking? I will be completely honest with everyone – I do. As part of my efforts to lose weight, I have been trying hard to have healthy options in the fridge. Keeping fast meals in the house makes eating at home more feasible on those hard work days, and keeps us from eating the biggest diet killer ever – fast food. For me, the hardest thing was finding the right foods, ones that could be prepared quickly, but didn't leave me feeling guilty later when it was time to get on the scale. Best of all, most of my quick ingredients can easily be found in the refrigerated dairy aisle .
If you looked in my fridge, you would see that it is filled with a variety of fruits, vegetables, juices, and different types of milk and milk products. Like most families, we have certain staples that we can't go without, such as milk, almond milk, half and half, and even cheese. Yet, very few people take advantage of the other amazing foods found in the refrigerated dairy aisle. As someone who strongly supports natural eating, I am always looking for new quick foods and ingredients, such as tortillas, pizza dough, and even Greek yogurt. While these ingredients may seem simple in nature, they can come together to make wonderful dishes which, when paired with the right vegetables, are far better than what you could even find in most high-end restaurants. Great dishes like my Chicken Enchiladas Recipe and Homemade Buttermilk Pancakes!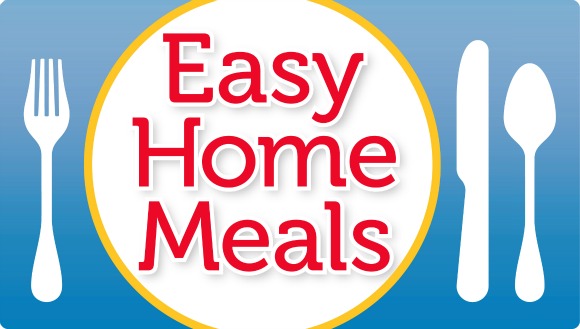 The hard part can sometimes be finding the right recipes for the job. While I love going through Pinterest for recipes, I have also found that the National Frozen & Refrigerated Food Associated(NFRA) has wonderful tips and recipes for staying healthy. As part of June Dairy Month, they have been reaching out to teach others about making healthy choices when it comes to food. Through their blogs, The Dish Dairy Tumblr and Easy Home Meals, you can find recipes that not only look amazing, but were designed with your health in mind. Many of the recipes on their photo blog were created by Aida Mollenkamp, a professional chef and culinary expert.
To find fun recipes and learn more about cooking with real, simple, farm-grown ingredients, make sure to check out the Easy Home Meals Pinterest Page, Easy Home Meals Twitter, and Easy Home Meals Facebook Page. Just be warned, if you are like me and love to cook, you may very well be spending a weekend making new recipes.
As part of June Dairy Month, we are also happy to be working with Resourceful Mommy to teach others about healthy eating. To making healthy eating from the refrigerated aisle more fun, they are throwing a Twitter Party, where you have a chance to win a bunch of fun prizes, including a $100 Gift Card! Want to RSVP? Here is everything you know!
Easy Home Meals Twitter Party (RSVP HERE)
When: Thursday June 27 from 8 PM – 9 PM ET
Where: #DairyBeyondCool
How: Follow sponsor @EasyHomeMeals, host @ResourcefulMom, chef @AidaMollenkamp and tweet in the event tag #dairybeyondcool
Prizes: Grand Prize – $100 Gift Card, 1 – $50 Gift Card, 4- $25 Gift Cards

Never been to a Twitter party? Don't worry, it's easy and fun! Twitter Parties are a great way to meet other interesting people and win great stuff! To learn more, check out this great Twitter Party Tutorial. Either way, I hope to see you at the Easy Home Meals Twitter Party on Thursday!
Disclosure: Budget Earth received monetary compensation for this post and its topic, but all thoughts and opinions are my own. This post is in no way associated with Pinterest, Facebook, Twitter, or Google +.