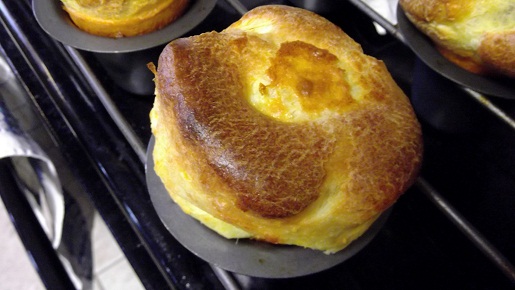 This is one of my dad's favorite recipes, as popovers remind him of his childhood.  Popovers are kind of like a roll or a muffin, only much lighter.  They're hollow in the middle and have a crispy outer shell.  You can bake them in a popover pan, like mine (I received one for Christmas a few years ago…funny, how several of the kitchen items I've acquired over the years are for things I normally wouldn't bake for myself, eh?), or simply use a muffin pan.  Popovers have a slight eggy taste, and are delicious with butter or jam; cheese; or even garlic, basil, oregano, and parmesan.  They're best when served hot from the oven, but given how popular they are leftovers shouldn't be a problem (mine didn't last more than a couple of hours in the kitchen before they'd all been devoured).
Another great thing about popovers is that, while they look like they'd be difficult to make, they're actually very easy!  They use only a few simple ingredients that you probably already have in your kitchen.  Like my recipe for chocolate donuts, this one also comes from King Arthur Flour.
Popovers Recipe
Ingredients
4 Large Eggs Room Temperature or warmed for 10 minutes in warm water
1 1/2 Cups Milk Lukewarm
1/2 Teaspoon Salt
1 1/2 Cups All Purpose Flour or Bread Flour
3 Tablespoons Melted Butter
Instructions
Preheat oven to 450°F. Position a rack on a lower shelf. The tops of popovers, when fully risen, should reach about midway up the oven. If they're too close to the top of the oven, they'll burn.
Grease your popover pan thoroughly (nonstick spray is fine), covering both the area between the cups as well as the cups themselves. If you don't own a popover pan, then you may use a standard metal 12-cup muffin tin, whose cups are about 2.5″ wide x 1.5″ deep. Make sure the oven is up to temperature before you begin to make the popover batter.

Using a wire whisk, beat together the eggs, milk, and salt. Whisk until well combined and no streaks of yolk are showing.

Add the flour all at once, beating with a whisk until the batter is frothy. It's okay to have smaller lumps in your batter, but there shouldn't be any large ones.

Stir in the melted butter, combining quickly.
Pour batter into muffin/popover cups, filling each about 2/3 to ¾ of the way full.

Ensure that your oven is at 450°F, and then place the pan on a lower oven shelf
Bake for 20 minutes WITHOUT opening the oven door. Reduce heat to 350°F (again, DO NOT open oven door), then bake an additional 10 to 15 minutes. Popovers should be a deep, golden brown. If they seem to be browning too quickly, you can position an oven rack at the very top of the oven and place a cookie sheet on it to shield the popovers' tops from direct heat.

Note 1: If you plan on serving the popovers immediately, remove them from the oven and stick the top of each popover with the tip of a knife in order to release steam and help prevent sogginess. Note 2: You may bake the popovers for an additional 5 minutes to hold their shape longer without deflating and settling quite as much, IF you can do so without them becoming too dark. This will make them a bit sturdier, and able to hold their "popped" shape a little longer.