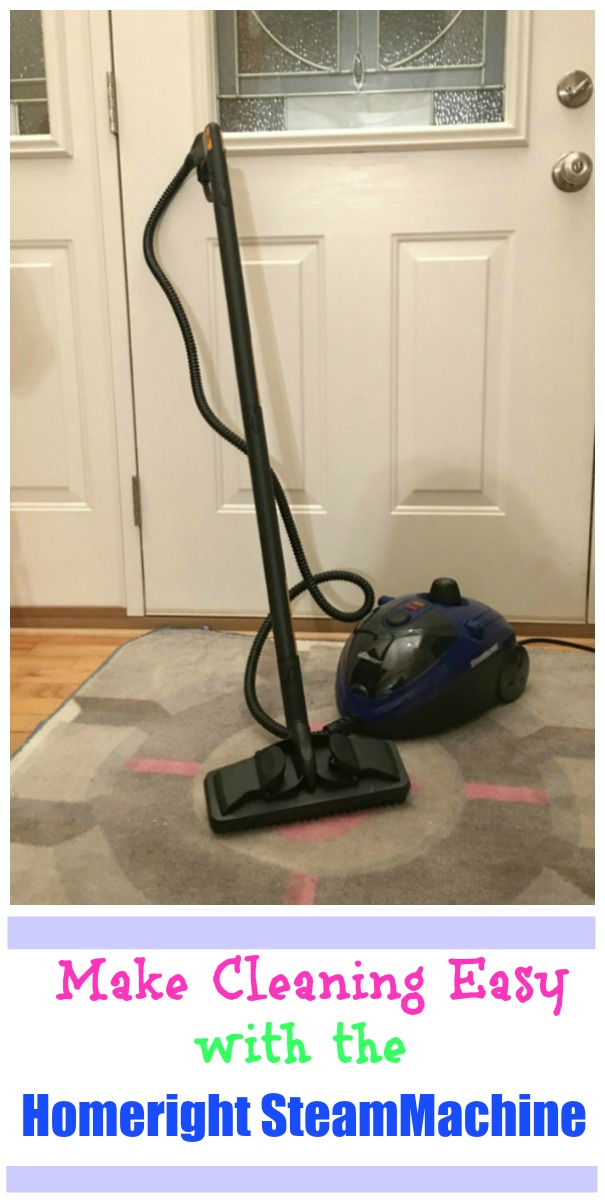 Do you enjoy cleaning? I will be one of the first to admit that I am not someone who loves to clean and I love anything that speeds up the process. One of the things we have been doing to slowly make our house easier to clean is getting rid of all the carpet and moving to plank vinyl flooring. With two large dogs in the house, we couldn't believe how much dirt and allergenic material carpet holds, making it a no-brainer to move away from it slowly. In our home, one of the ways we have made cleaning just about everything easier is using steamers. They disinfect using steam and are extremely easy to use, making it great for people like me who dislike cleaning, but love a clean home.
Probably one of my most favorite cleaning machines is the HomeRight SteamMachine. When I heard HomeRight was coming out with a new model of their steamer, we decided it was time to retire our old one. Knowing how much we loved the previous model, HomeRight offered to send us a complimentary machine to see if we liked it as much as the previous version. What girl would say no to upgrading their favorite household tool?
Homeright SteamMachine: What is It?
Looking for a way to make cleaning more time efficient and more cost effective? If so, we think you will love the Homeright SteamMachine. Unlike traditional cleaners and some chemical steamers on the market, this machine does not leave any unpleasant residue since it uses one of the purest chemicals out there – water. By using pressurized steam to clean, you can disinfect just about any surface, killing 99% of all germs and bacteria commonly found in the home. All you have to do is steam the area, wipe it down, and you are done – it loosens and dissolves dirt. As well, the canister has two wheels for easy transport and has a front compartment for storing its most commonly-used attachments.
Not only is it easy to use, it can help with just about any cleaning job in your home. Some of the things it can do include:
Disinfecting surfaces
Cleaning vinyl, linoleum, and tile floors
Stovetops & Ovens
Disinfecting and Cleaning Bathrooms
Cleaning Grills
Removing wallpaper
In other words, it is a homeowners dream come true! To learn more, make sure to check out the SteamMachine on the HomeRight website!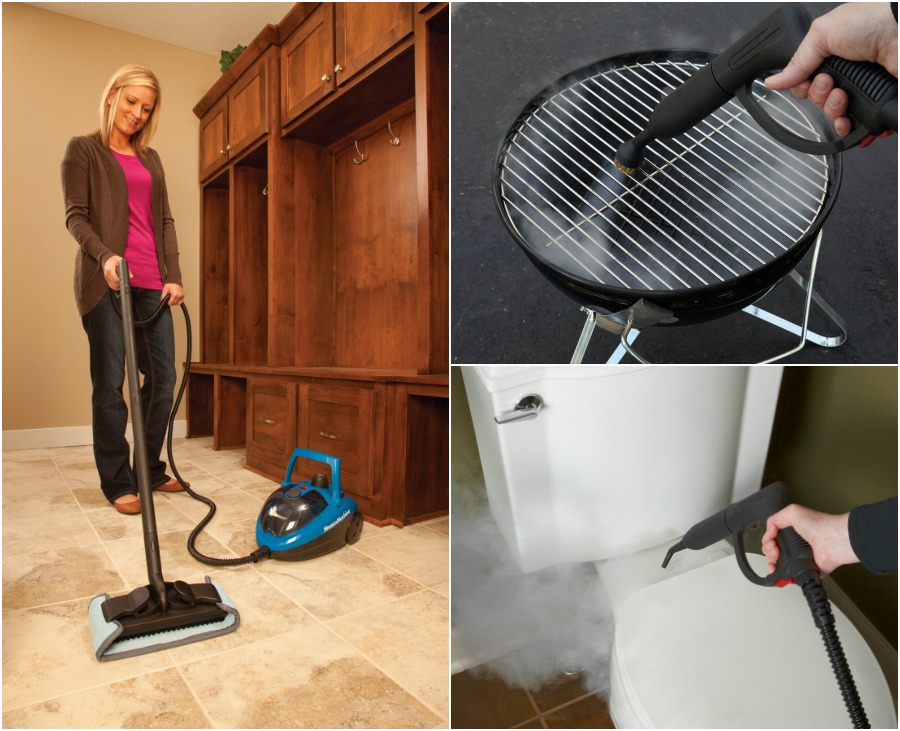 Homeright SteamMachine: Our Thoughts
As someone who used the old model of the SteamMachine for years, I have to say I was pretty excited to get the new Homeright SteamMachine out of the box! For some strange reason, after the holidays, I've had problems keeping the house in order. As part of our spring cleaning routine, I couldn't wait to get steaming and sanitize the house, especially the bathrooms. Like previous models of the SteamMachine, I love that it comes with a variety of different attachments, making it a fantastic multipurpose tool for keeping your home clean. As well, most of the attachments fit neatly in the machine, making storage easy. Really, the only thing you have to remember is to put the attachments on before you start cleaning to be safe. While every Homeright steamer I have ever used has amazing safeties, it is always better to be safe than sorry, as suggested by the manual.
One of the things I have always loved about the SteamMachine is how easy it is to use. With the right attachements, it sanitizes and cleans just about any surface, cutting cleaning time in half, especially on cleaning jobs that require scrubbing. I especially love that I can ditch most cleaners since high-temperature steam kills 99% of germs and bacteria. Really, a steam cleaner is one of those things you don't realize how much you needed until you have one. Now, I couldn't imagine life without my steam cleaner and love that the new model is just as easy to use. As well, there are even more tools available than the original model, allowing you to do just about anything with your steamer, including safely remove wallpaper! Overall, I don't think I could be happier with the latest version of our favorite steamer.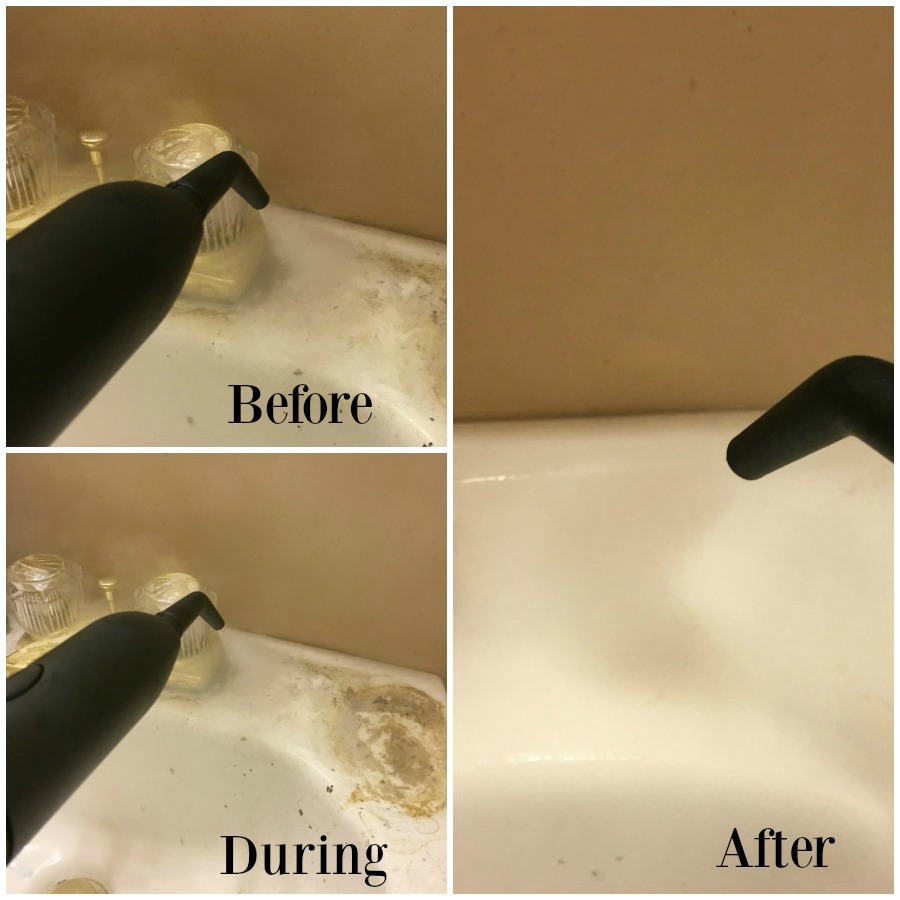 Homeright SteamMachine: Where to Purchase?
Would you like to purchase this awesome steamer for your own home? As someone who has always been a big fan of Homeright's steamers and their other products, I consider the SteamMachine a must for just about any household! Currently, you can purchase the Homeright SteamMachine on Amazon.com for only $149.99 with all of its amazing attachments!
Want to learn more? Check out HomeRight on Social Media!
Facebook | Twitter | Pinterest | Instagram | Youtube

Would you like to have your products featured in a giveaway event? Want to increase your social media exposure? Contact susan.l.bewley@gmail.com to see how I can help YOUR company today!