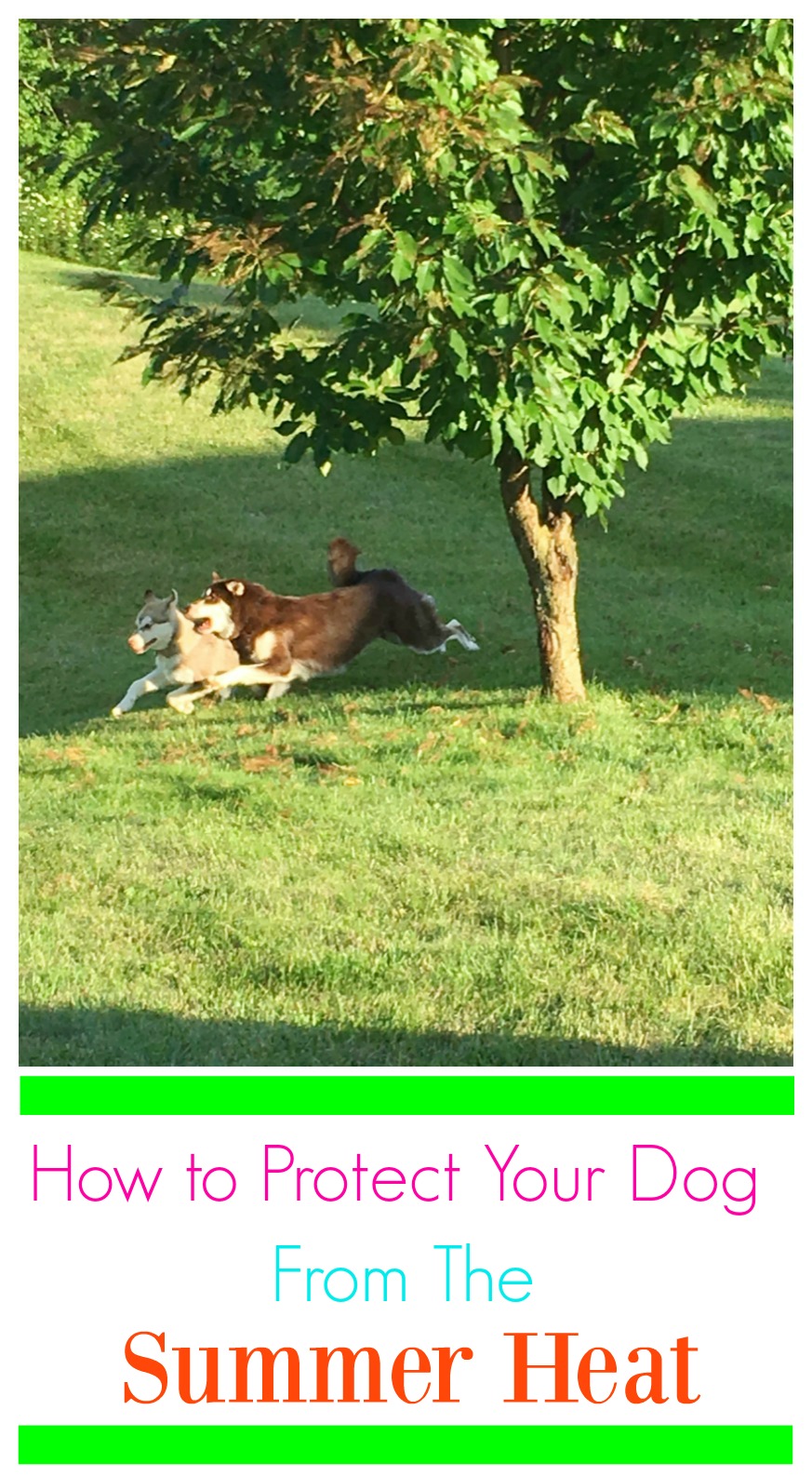 What do you do to protect your dogs from the summer heat? While summer has been upon us for over a month now, in many parts of the country we are just getting into the worst of the summer heat. In our area, July through early September can be some of the worst, with temperatures staying in the 90s or above. For humans and pets alike, these temperatures can not only be quite miserable, but actually dangerous as well! Having two dogs bred for cold weather, we especially understand the dangers of the heat and constantly worry about our dogs.
Like all dog owners, we do everything we can during the summer to protect our dogs from the summer heat. While we have had dogs for years, it doesn't hurt to have a checklist of things to remind yourself and your family what you need to do to keep dogs and cats alike safe throughout the summer. Some of the most important things you can do to protect your dogs from the summer heat include:
Access to Fresh Water
While this may seem like common sense, most dogs don't have access to enough water throughout the day, making it impossible for them to drink enough. Considering going with a fountain like the Drinkwell Everflow Indoor/Outdoor Fountain, which constantly refills itself and circulates filtered water to make sure your pet always has access to clean water.
Access to Cooling Methods
Along with water, you should have other ways for your pet to cool themselves. This can be as simple as having ice in water or even cold treats you can make at home for your dog to make sure they are staying cool inside and out!
Access to Shade & Weather Outdoors
When dogs are outside, they should always have access to shade. If you don't have trees or man-made shade (like large umbrellas) outdoors for your dog, don't forget that dog houses are fairly inexpensive. Even dogs that spend most of their time indoors love having somewhere fun to relax indoors. If they're outside often enough, you might even build your own doghouse!
Protect from Burns
One of the largest dangers outside to dogs (and humans) is the sun. Contrary to what many people believe, dogs can get sunburns. Places that should regularly have sunscreen include your dog's nose, belly, ears, and groin. If your dog is shaved, however, they should have sunscreen anywhere that has skin showing. Like us, they can get serious sunburns and even, over time, skin cancer! As well, don't forget that their eyes need protection like ours. We have regularly used Doggles in the past with our own dogs.
Another place many people don't consider when it comes to burns are paws. To the surprise of many dog owners, paw pads, while not terribly sensitive, can be seriously burned on hot asphalt. To give you an idea of how dangerous it can be, on an 87 degree summer day, the pavement outside can be as hot as 143 degrees – more than enough to burn with just a few seconds of contact. To protect your dog's paws, purchase boots or shoes for your dogs that can withstand high temperatures. While there are quite a few brands out there, we personally use Ruffwear Summit Trex since they are designed for extreme hot and cold temperatures, of which we see both throughout the year.
Regular Grooming
Even though many people think of grooming as a winter thing, it is actually just as important during the summer months. Dogs should be regularly brushed to get rid of loose fur, which can impair a dog's ability to regulate heat. While some dogs can be shaved, also make to speak to your veterinarian first, since some breeds should never be shaved (mostly double-coated dogs like Alaskan Malamutes and Siberian Huskies).
Never Leave Pets Alone Outdoors
During the summer months, the temperature can rise very quickly and become dangerous for dogs. With humidity and air temperature combined, it is very easy to dogs to suffer from heat exhaustion or a heat stroke – just like people outside in extreme heat and humidity. Even outdoor dogs should be in a partly protective environment, where they can be in shade and out of the heat.
Never Leave Dogs in a Car
While this may seem like common sense, dogs are still dying all over the country from being locked in hot cars. As a rule of thumb, no matter what season, dogs should NEVER be left in a car alone during the day, even with the windows cracked. The American Veterinary Medical Association actually has some rather frightening statistics when it comes to temperatures in cars. For example, the inside of a car, on a 70 degree day can get up to 104 degrees in just 30 minutes! Just imagine how hot it would be on a 90+ degree days?

Though we may have the best intentions and plans, sometimes emergencies do happen, even if you follow the steps above. This is one the reasons why it is crucial for pet parents to know the signs of heat exhaustion or heat stroke. Heat emergencies do happen and if you suspect your pet is having a heat emergency, call your veterinarian immediately or take your dog to an emergency veterinary clinic. Dogs and cats both die from heat exhaustion and heat stroke each year, so make sure you are prepared before a situation happens.
With the right amount of preparation though, it is easy to have a safe, wonderful summer with dogs and cats alike. Also, don't forget that like kids, there are hundreds of different water toys for dogs and many love kids' swimming pools! So, what do you do to keep your pets safe from the summer heat?
Disclosure: Budget Earth did not receive monetary compensation for this post and it is for educational purposes only.  This post may also include affiliate links.  All opinions are my own honest assessment, and may differ from our readers' opinions. 
Would you like to have your products featured in a giveaway event? Want to increase your social media exposure? Contact susan.l.bewley@gmail.com to see how I can help YOUR company today!