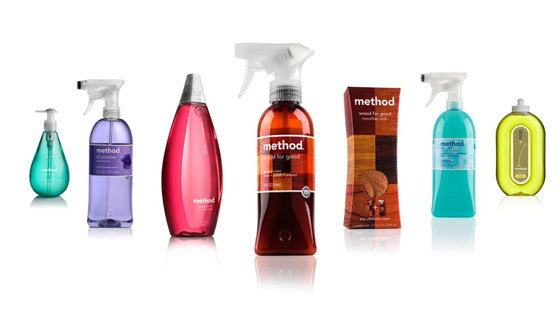 When many of us go down the cleaning isle at Wal-Mart, Target, or our favorite natural grocery store, we can't help but be overwhelmed by all the choices that are available. Not only do we have a large selection of traditional cleaners, but a selection of natural brands have been entering the market as well.  One brand that has been getting quite a bit of attention lately is Method, with an extensive line of home cleaning products.
Review of the Method Brand
The Method brand has been around 2001, when two entrepreneurs decided it was time that some company make cleaning products that are better for the environment, and don't need to be hidden under the sink, either.  Other than Seventh Generation, they are the most well-known and publicized green cleaning products in many areas of the United States, being sold at Target and most grocery stores around the nation. 
Method Home Cleaners: How they Work
All Method cleaning products use nature-derived suffocants that work to remove dirt from the area where you are cleaning, either by dissolving it or causing it to adhere to your cleaning cloth, like most other cleaners.  However, because of the origin of the cleaning compounds, you aren't cleaning with harsh chemicals like bleach or ammonia.  If you are like me, this also means you aren't having to worry about mixing bleach and ammonia while scrubbing dirty areas, one of my number one fears with cleaning.  Method home cleaning products aren't just safe for humans, but animals as well, being one of the few cleaning products that are very pet-friendly and never tested on animals. 
If you are like my husband, however, you likely don't care as much as me about Method's home cleaning products being green. What he cares about most is how well they actually work.  Method has been one of the brands that he is actually willing to try whenever I need new cleaning products.  Anything else, he makes me spend time researching effectiveness, as well as looking into the ingredients. Method's line of products has proved highly effective time and time again in our home, and having a scent that doesn't bother our allergies. For this reason, their antibacterial cleaners is one of the few cleaners we actually use to clean our bearded dragon tanks, since their antibacterial cleaners are safe and actually leave the tanks looking amazing.
Method Home Products
While I have tried a few Method products that haven't impressed us, I have found that most of their cleaning products work just as well as the harsher cleaners they replaced for us.  Some of our favorite Method home cleaning products include:
To be honest, the only Method product I have tried that I really hated were their liquid soaps, which I know quite a few people love.  The liquid soap just didn't cut grease and the hand soap broke me out, which really disappointed me! 
What is your opinion of Method cleaning products? What products have you tried? Give us your opinions on different Method products – we would love to hear them and see if you have tried any products we haven't!