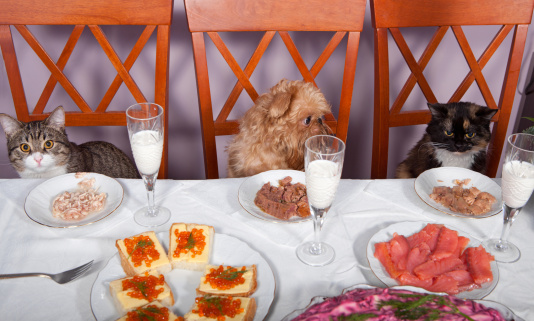 Have you been wondering what all the fuss is about when it comes to natural pet food and healthy pet products? Going to Petco and Petsmart, I can't tell you how many times I used to roll my eyes seeing all the 'natural' dog foods and holistic pet products.  The reason I say this is because if you flip over these bags and look at the ingredients, they look almost identical to other high-end pet foods. For this reason, I wondered why anyone in their right mind would use 'natural' dog and cat food? Did they just have that much money to waste?
I was taught early that you feed dogs and cats food made just for pets. They certainly don't need table scraps, especially since onions and garlic, common ingredients in many cooking styles, are deadly to pets.  Yet, my family never had a problem sneaking certain veggies to our pets, as well as special goodies during holidays that were animal safe.
Search for a Cure: My Cats Allergies & Research
For some reason, these safe vegetables and meats are what I expected pet food to be made from. I really didn't know the truth until recently, when my cat Lucie started having an allergic reaction to something. Since we are away from home in New Jersey, due to my husband's work, she has been visiting grandma and grandpa, along with many of our bearded dragons (natural food for them is easy – they'll only eat live insects and leafy greens). Since the vet there has not been able to determine her allergies, she has been on regular steroids and allergy shots. As you can imagine, this has meant a very unhappy kitty.
To try and help her, I started doing research on allergies and talking to other vets online. What shocked me was that the answer seemed simple to many of them – she's allergic to wheat and/or corn. Finding food just for pets with allergies couldn't be that difficult, right? Wrong! Virtually every pet food on the market contains these ingredients.
Benefits of a Raw Diet: What Fido & Fluffy End Up Eating
As I was searching for healthy pet products, I started digging deeper into Wikipedia and a number of animal-wellness websites.  As I have come to find out, most commercial food made just for pets comes from things I consider unfit for animal consumption.  Many of the ingredients are the parts of animals the FDA considers unfit for human consumption, or sick animals.
If this wasn't bad enough, dogs and cats are carnivores – meaning they (should) mostly eat meat.  This means their bodies have issues processing wheat, corn, and rice, causing allergic reactions and poor health.  Looking at your dry food, you may have noticed that these are usually in the first five ingredients -making it the majority of their food!  With the empty calories in corn and rice, this is the equivalent of eating junk food all day! I would never put junk like this in my body, so why would I want to do this to my pets?
Like me, you are probably sitting back and thinking – "but there are laws about pet food, right?" I hate to burst your bubble, but commercial pet food is not government-regulated at all – the industry is purely self-regulated. In other words, they answer to no one but themselves when it comes to pet food quality standards.
Fighting Back: What Owners Can Do
While we may want to start a campaign against these commercial pet food companies, this is likely not going to work.  The best course of action we have for our animals is to simply choose not to buy from these companies until they produce something that is truly healthy for our animals. Remember that we can't assume that all natural and holistic pet foods are good for your pet – again, they are not regulated.    So, why use natural dog and cat foods? I think that there must be some pet products that are really natural, and actually healthy for our furry friends.  Some of the things I am starting to look at include:
Making Homemade Dog & Cat Food
Over time, I plan to be releasing articles on different types of food, including some of the pet food brands that are supposed to be more nutritious, and different ways to make healthy pet food products at home, too.  If there is a food you would like to see us review, leave a suggestion below and I will look into it.  I'm curious what other people have found, and very much interested in the alternatives for my Lucie too!
Budget Earth & its writers did not recieve compensation or products from said company for this post and it's completley the opinion of the writer.