As some of you know, I love trying out new beauty products and supplements, especially those made with all natural ingredients. While I didn't care too much about it when I was younger, I am now focusing more on eating properly and getting the nutrients I need on a daily basis. Along with helping with my weight loss goals, it has also helped me feel more confident about my overall appearance, especially with my nails and skin. Recently, I started adding collagen to my diet. After trying NeoCell's collagen supplements, I not only had better looking skin, but felt great! Knowing how great I felt while taking their products, NeoCell asked me to review two more, their Beauty Bursts and Keratin Hair Volumizer. As someone that has used Keratin hair care products in the past and enjoyed my Beauty Bursts sample, I couldn't wait to review these new products!
NeoCell: Why It Matters
If you hadn't read my previous NeoCell review, you are probably wondering what all the fuss is about with collagen. Even though no one talks about collagen, it is one of the most abundant (and important) proteins in our body. It helps strengthen our bones, muscle, skin, and even fingernails. Without it, we would have ligaments and joints that didn't work properly, or saggy skin. In other words, it is like the glue that keeps our body together. Scientists and doctors have known the importance of collagen for some time, but it wasn't until recently that they found it not only helped heal muscle injuries, but in many ways slowed down the aging process, especially for those who were aging prematurely due to excessive sun exposure. For everyone else, extra collagen helps your skin and nails look even better, while giving your muscles the extra love they need, especially during hard workouts.
NeoCell: Collagen Beauty Bursts
I have to admit, I was excited to try the Collagen Beauty Bursts. About a month or two ago, I had tried the fruit punch variety of these chews as a sample in my Bulu Box. While they tasted pretty great, one sample isn't enough to tell if a product truly works. Seeing my reaction to the sample, NeoCell sent me a full bag of their Beauty Bursts in Chocolate Mint. Now, since I'm a girl who loves chocolate, I couldn't wait to get into these! These bursts are filled with collagen type 1 and 3, hyaluronic acid, and vitamin C. As I expected, they had a wonderful chocolaty mint flavor, making them a nice treat during the day when I had a sweet tooth. Best of all, my skin felt less dry and I had more energy when I was exercising, making them a perfect addition to my supplement routine.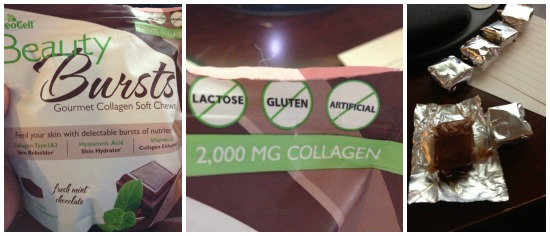 NeoCell: Keratin Hair Volumizer
Okay, I will freely admit – I am one of those people who probably spends more money on my hair than I should. While I don't normally use a hairdryer or straightener on my hair, I do use some products that are probably not the best for my hair. When I found out about NeoCell's Keratin Hair Volumizer, I was very intrigued. I had never seen a hair supplement, never mind considered taking one. When I read about the product, I was even more intrigued, seeing that it was designed to make hair stronger, more lustrous, and thicker, something that I was excited to hear since I have very fine hair. While it did take a bit to see results, I was surprised to see that my hair was fluffier and softer within a week of taking this supplement. It wasn't too much longer before it had a pretty, healthy shine. To me, this was amazing, since it meant that this one supplement could very well replace some of the emergency products I was using for bad hair days. So far, I haven't even had a bad hair day since I started taking this supplement!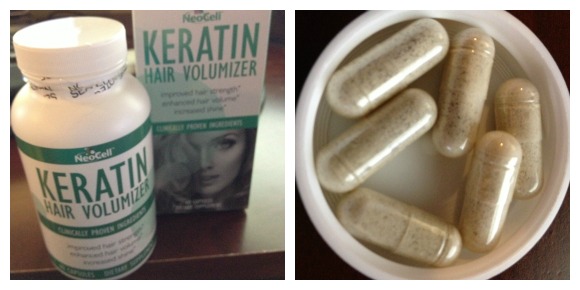 NeoCell: Overall
So far, I have had nothing but a good experience using the NeoCell Beauty Bursts and Keratin Hair Volumizer. While I don't mind taking collagen tablets, the beauty bursts are a very nice treat. It helps me get my daily intake of collagen, while also satisfying my chocolate cravings without the high calories. My success with the Keratin Hair Volumizer took a bit longer, but I have to say my hair does look much nicer. It seems stronger and has the most beautiful shine, making me feel even better about leaving my hair down. Based on my experience, I am happy to give both of these supplements an A rating! In other words, excellent products for any woman hoping to improve the look of her hair and nails!
NeoCell: Where to Purchase
Are you wanting to know where you can purchase these great products? You can currently purchase them at GNC, Whole Foods, and my personal favorite, Amazon.com. Why do I prefer Amazon? Well, mostly because they are often cheaper than the other options, and I can have them shipped right to my door for free using my Amazon Prime membership. With the Chocolate Mint Beauty Bursts being at least 20% off every day, where buy them anywhere else?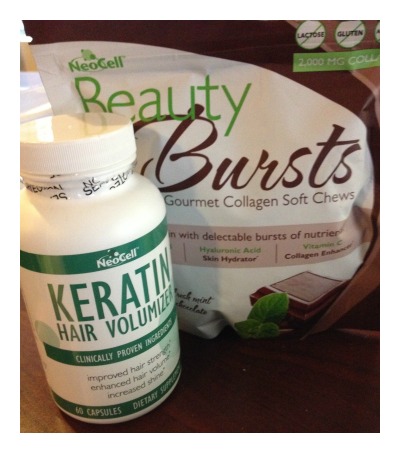 Disclosure: Budget Earth did not receive compensation for this review but did receive free products from NeoCell for review purposes. All opinions on this product are my own and may differ from our readers' opinions.
Would you like to have your products featured in a similar giveaway event? Want to increase your social media exposure before the holiday season? See how we can help! Contact budgetearth@gmail.com to see what we can do for your company!