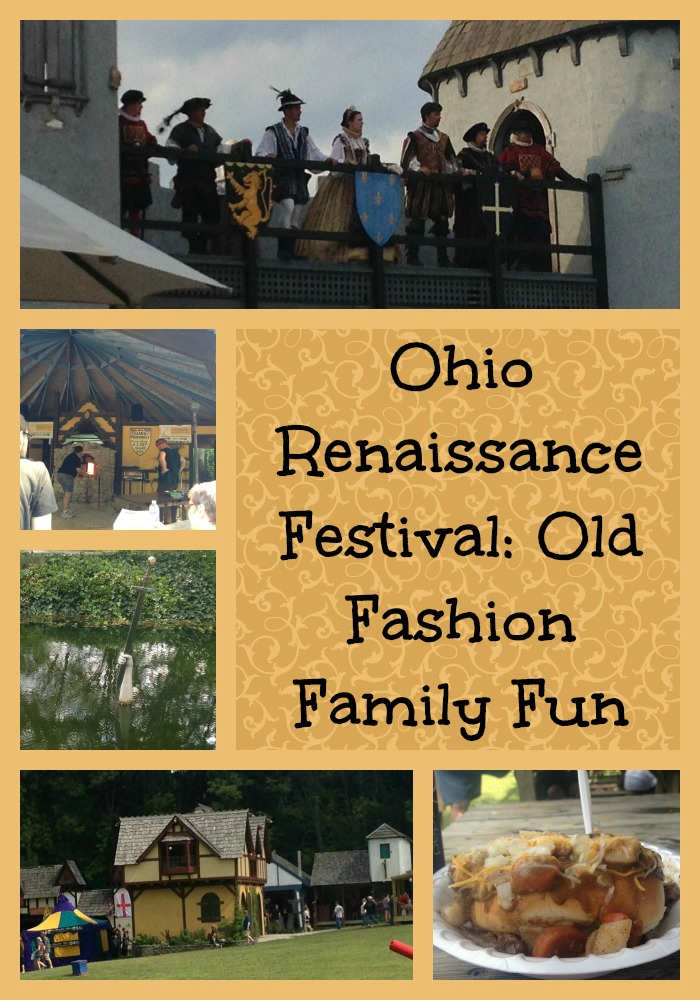 Are there certain activities that you associate with fall? For me, autumn is usually the start of many fun fall festivals. While I love craft fairs and many smaller fall festivals, I have to say the biggest thing my family looks forward to doing is the local Renaissance festival. Really, this isn't even a small event, but a rather large festival that comes to Harveysburg, Ohio every year. Ever since we moved to the greater Cincinnati area we have enjoyed going to this festival, and this year was no different! This was the first year, however, that were able to make it to the Ohio Renaissance Festival during opening weekend, making it a big deal for my family and their Swedish exchange student!
Ohio Renaissance Festival: What is It?
Never been to a Renaissance festival? If so, you are in for a treat! The Ohio Renaissance Festival is a fairly large festival that has professional shows, costumed actors, man powered rides, and unique shops where you find items you normally can't find in stores. For me, these sort of the festivals are the type of experience that I think everyone should see at least once. Just don't be surprised if you are feeling rushed trying to get everything done the first time, especially with all the shows and shopping that is available. I also love the random actors throughout the festival who have you laughing as they randomly play their parts throughout the day! I also love that this is a family friendly event that is safe for children of all ages – my youngest sister in law has been going since she was eight or nine.

Ohio Renaissance Festival:  Shows
Your first time at the Ohio Renaissance Festival, I highly recommend checking out the various shows and other forms of entertainment throughout the festival. I have seen just about all the shows throughout the years, but this was the first time I actually got to watch the jousting tournament. Unlike other festivals that play around with jousting, the Ohio Renaissance Festival actually has professional jousters who compete throughout the world. This show goes on three times a day, so you have to plan ahead to catch it or be lucky. Scheduling has kept me from seeing it every other year. As you can see from my pictures and video, it is actually quite exciting and fun to watch! If you can catch only two shows at the festival, highly recommend the jousting match and the pirate comedy show.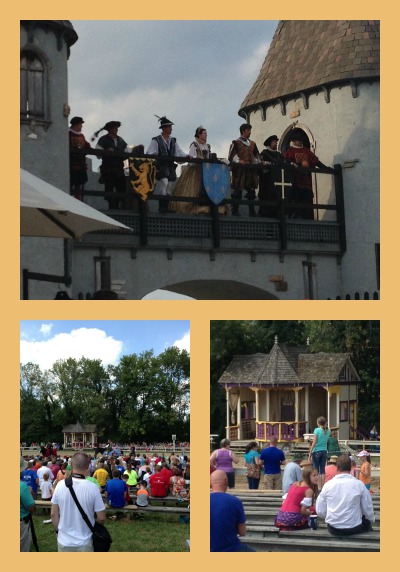 Ohio Renaissance Festival: Shopping
For me, this is the best part of any Renaissance festival – the shopping! Each shop at the Ohio Renaissance Festival is in its own covered building where you can get out of the sun and shop. What I loved so much about these shops is that they all had quality items. While there are obviously quite a few costume shops, there are also places that make handmade jewelry, soaps, and even pottery. This year, I filled up my Furoshiki Eco Knapsack with fun goodies, including homemade incense, jewelry, and even a large marble mortar and pestle for my soap making. My jewelry had to be the biggest treat since my husband actually picked out my necklace and earring set himself.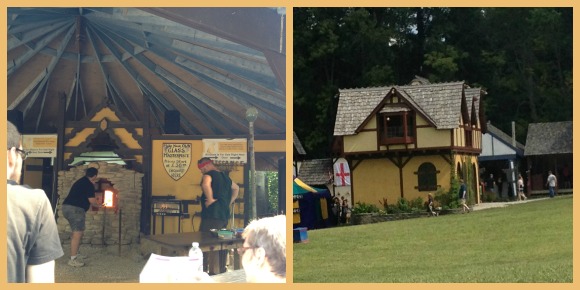 Ohio Renaissance Festival: Food
While this may seem a bit odd, part of the fun of going to Renaissance festivals is the food. If you walk around the Ohio Renaissance Festival, you will notice that there are a variety of little built in restaurants and eating areas. What makes this festival unique, however, is that every food area is also a fundraiser. A charity group or church runs each of the food stations, allowing them to raise money for their cause in a fun, healthy environment. Most of the food at this festival has a Renaissance theme, ranging from large turkey legs to stews. While most of my family went with safe finger foods (such as chicken nuggets), Daniel and I had bread bowls.  I actually look forward to getting the beef stew every year. For relatively little money, you get a giant bowl of food. To this day, I have NEVER finished one of their bread bowls. As you can see from the picture, it is actually quite huge!
If you go to the main eating area in the front part of the village, you can also listen to live music. Daniel and I were enjoying listening to folk music as we ate. Really, the eating arrangements make it an even more fun experience. For me, it was cute watching all the little children also dance to the music. Really, could you have a more family friendly environment?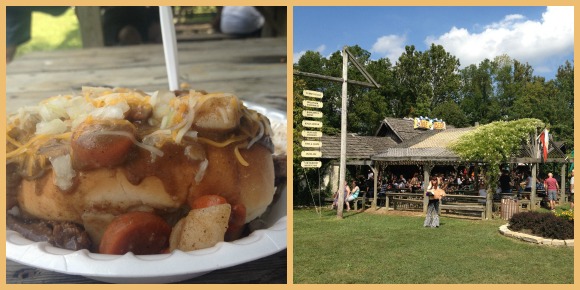 Ohio Renaissance Festival: Overall
Even though I have been going to the Ohio Renaissance Festival for over five years, I have to say that the 2013 Ohio Renaissance Festival may be the best yet. Everyone left exhausted, happy, and with lots of fun goodies. It's rare we get a party of twelve people together for the festival and I have to say it made things even more entertaining! With how much fun my husband and I had, we may very well be going back later in the season – hopefully in costume if it's not too hot! If you are looking for a fun day trip and live in the Ohio, Kentucky, & Indiana area, I highly recommend checking out this festival. If you are a fantasy buff like us, I'm sure you will love it!
Ohio Renaissance Festival: More Info
Want to check out the Ohio Renaissance Festival for yourself? You can learn more about the festival on the Ohio Renaissance Festival website. There, you can also be able to see the themes for the remaining weekends. If you can only make one weekend, however, i would highly recommend going during the Oktoberfest weekend! Either way, you can expect a weekend of family fun at this festival! Just don't wait too long since the Ohio Renaissance Festival ends at 6 PM on October 20th, 2013.
Disclosure
:
Budget Earth did not receive compensation for this review and tickets were purchased with our own money
. All opinions are my own and may differ from our readers' opinions.
Would you like to have your products or event featured on Budget Earth? Want to increase your social media exposure before the holiday season? See how we can help! Contact budgetearth@gmail.com to see what we can do for your company!