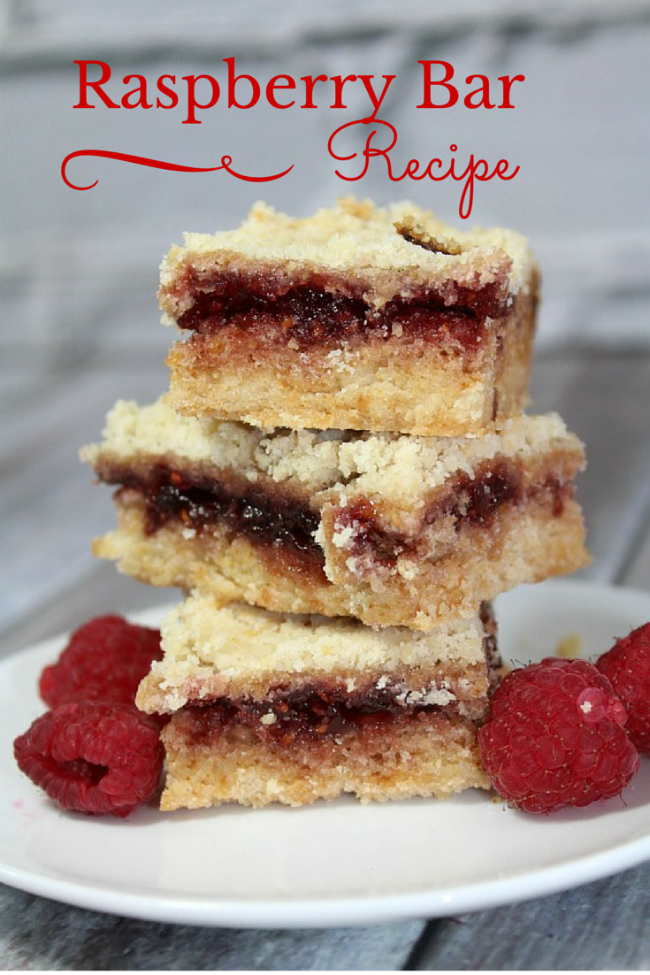 How many of you are glad taxes are over? I will admit, I was one of those people who waited until the eleventh hour to do her taxes and was frantic to get everything done when I realized I was going to pay in this year. To say the least, this girl is cuddling with her favorite dog and trying to avoid her bank account since it is a lot smaller than it was this morning. At least I know I won't have to deal with it until next year. While my friends are planning on how they are going to spend their tax refund, I am going to enjoy spending some quality time in my kitchen making delicious treats. Sweet things help get rid of tax blues, right?
One of the yummy creations I made today to help deal with taxes were these raspberry bars. As I told you guys previously, I am a big fan of berries. While I am hoping to use fresh raspberries next time, I was just getting rid of items in the fridge to preparation for purchasing more fruits and veggies. To say the least, these yummy bars truly hit the spot and made staying in tonight a bit more amazing.  I will also admit that I was still filing my taxes while they were baking, so the house smelled great as I was dealing with one of the biggest stressors of the year!
Want to try this awesome Raspberry Bar Recipe for yourself? Make sure to check out the recipe below. Don't worry, it really is easy! Make sure to tell us what you think of this yummy recipe below!
Note: Special thanks to my friends Krista from Adventures of Country Divas for helping me with this recipe and pictures!
Print
Raspberry Bar Recipe
Looking for a delicious, fruity dessert? Check out our tasty Raspberry Bar Recipe here!
Author:
Category:

Pastry

Cuisine:

Dessert
1

cup

of Pure Cane Sugar

1 Tsp

Baking Powder

3

cups

of All Purpose Flour

1

cup

of Shortening (Crisco)

1

Egg (room temperature)
Pinch of Salt

1/2 Tsp

of Cinnamon

1

Jar of Raspberry Preserve
Instructions
Preheat the oven to 375 Degrees.
Grease a 9 x 13 Baking Pan.
In a large bowl, mix together the sugar, flour, baking powder, salt, and cinnamon.
Add the shortening and egg to the dry mixture.
Hand mix the batter until it has a crumbling texture.
Divide the Dough in two separate bowls.
Take the first half of the dough and cover the bottom of the baking dish. Make sure it is spread out and pressed evenly.
Cover the layer of dough with the raspberry preserve. Make sure it is spread out evenly.
Gently add the other have the dough. Don't press it down, just crumble it over the preserve.
Bake for 35 – 45 minutes or until the top of the mixture is slightly brown.