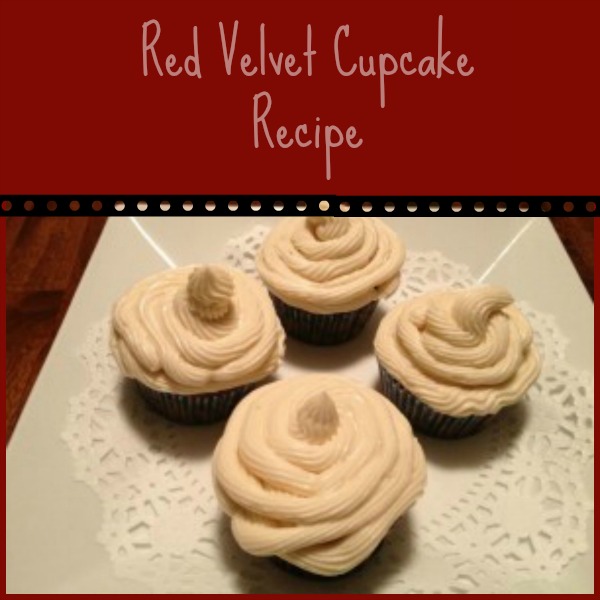 What is your favorite thing about the holidays? For me, it's baking. Don't get me wrong, I bake all year round, but during the holidays, I get to make a lot of delicious treats for my family. It isn't too uncommon for me to make a batch of Chocolate Cherry Cookies and at least one cake to bring to Thanksgiving dinner when we go to celebrate Thanksgiving with our families. While I switch off between a number of cakes, one that seems to get a lot of attention in my family is my Red Velvet cake recipe. This chocolate cake is rich, moist, and is one of the few red velvet cakes I will actually eat myself.  Since my husband absolutely loves red velvet cake, it is likely the most requested dessert I make for him, always popular for birthdays, Thanksgiving, and Christmas.
My biggest issue with most red velvet cake recipes I have found is that they have a bitter aftertaste. This is mostly due to the large amounts of red food coloring. I have found that just about every recipe that uses food coloring has a bit of an aftertaste, leading to some trial and error to find just the right mixture of ingredients to have a delicious, moist cake without having to worry about that bitter aftertaste.  Since we are planning on traveling home, I decided to do something a bit new this year and make some cute red velvet cupcakes. Not only do cupcakes look adorable, but are much easier to transport than a fully decorated cake! I really hope you enjoy this recipe just as much as my own family will.  If you make it during the holidays, we would loveto hear what you think of our red velvet cake recipe!
Print
Red Velvet Cake Recipe
Red Velvet Cake Ingredients
2 1/2

cups

Cake Flour

4 Teaspoons

Baking Cocoa

1 Teaspoon

Baking Soda

1 Teaspoon

Baking Powder

1 1/2

cups

White Sugar

2

Stick Salted Butter softened

2

Eggs room temperature

1

cup

Buttermilk

1 Teaspoon

White Vinegar

2 Teaspoons

Pure Vanilla Extract

1

Bottle Red Food Coloring
Cream Cheese Icing Ingredients
1

8

oz

Package Cream Cheese Softened & cubed

1

Box Powdered Sugar

1 Teaspoon

Pure Vanilla Extract

1

Stick Salted Butter
Instructions
Cake Directions
Preheat your oven to 350 degrees.
Grease 2 – 9″ cake pans or put paper cups in your favorite cupcake pan.
In a separate bowl, mix together all the dry ingredients. Mix thoroughly to make sure everything is evenly blended.
Using a stand mixer, beat the sugar and butter. Once it is thoroughly mixed together, add the two eggs.
Add the buttermilk to the egg mixture, and then start slowly pouring in the flour mixture, about 1/2 a cup at a time. This will help it blend without making a mess. Mix thoroughly.
Add the vinegar, vanilla, and food coloring to the mixture. Feel free to adjust the food coloring in this Red Velvet Cake Recipe if you wish for the cake to be more or less red.
Pour into a greased cake pan (1/2 full) or into your cupcake cups. If you are using cupcake cups, only fill to about 3/4 full.
Bake for 20 minutes or until a cake tester comes out of the cake clean.
Cream Cheese Icing Instructions
Cream the butter, cream cheese, & sugar in a stand mixer.
Slowly pour in the powdered sugar and add the vanilla extract. The mixture should be thick.If you used the Red Velvet Cake Recipe above, make sure to let the cake completely cool before icing!