Disclosure: I received this product for free, for reviewing purposes. The opinions in my review are honest and my own.
As any dog owner will tell you, dogs come with their own unique messes. From playing outside to getting in the trash, they have their own little adventures that can make a cleanup a challenge for their owners. With me getting the house cleaned and ready for spring, I have been trying to clean up our floors, especially the hardwood and laminate floors on the main level of our home. While I love my normal steamer, sometimes I want something a bit stronger to neutralize dog smells and get up those messes. While trying to find the perfect solution for my own family, I was approached by Shark, asking if we would like to review their Shark Pro Steam & Spray Mop. After looking into this mopping system a bit further, I was excited and couldn't wait for our Shark steamer to arrive!
Shark Pro Steam & Spray Mop: What is It
Looking for a way to clean your floors and sanitize them at the same time? If so, we are happy to introduce you to the Shark Steam & Spray Pro. This innovative steaming system comes with 3 distinct mop settings, all of which are designed for certain floor types or cleaning needs. With the system's non-toxic Steam Energized Cleanser, you can clean any floor surfaces, without leaving residue, and then steam clean to leave your floors clean and shining. With the system's washable and disposable pad options cleaning hardwood, tile, or laminate floors just became not only easy, but fun!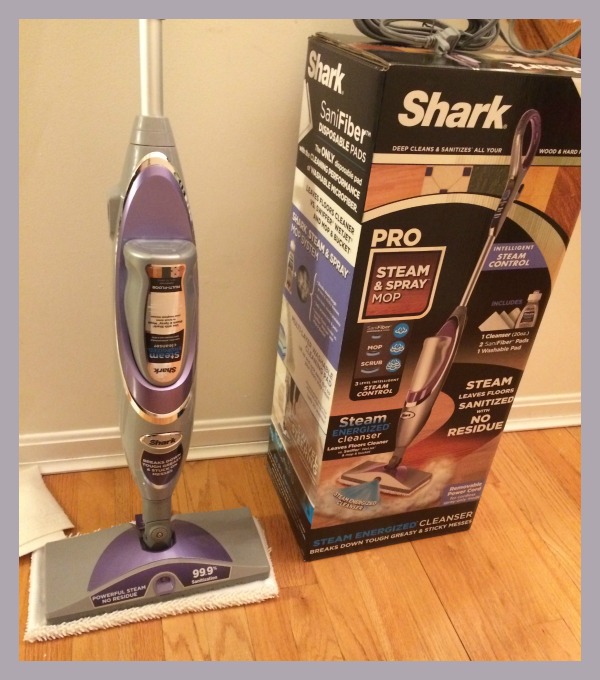 Shark Pro Steam & Spray Mop: Overall
Personally, I was impressed with the Shark Pro Steam and Spray. Unlike some other systems, this steamer is very easy to set up and can be used almost right out of the box. All you have to do is snap up the handle, put water in the steaming portion, install the batteries that came with the unit, snap in the steam energized cleanser, plug in the unit, and go! It really is that simple! It is also very easy to move between the three different settings. I have tried the unit in all three modes and have been impressed with the results. Even our wood floors had the most beautiful shine after using this mop system, something that was very nice after Reya tracked in dirt from one of her trips outdoors. If you are moving between floor types, changing the steam setting is also very easy. All you have to do is push the button on the handle and wait until the light turns on for that specific mode. This allows you to spray clean, steam, or spray and steam your floors. Overall, I am very impressed with the Shark Pro Steam & Spray Mop and am delighted to give this unit an A rating!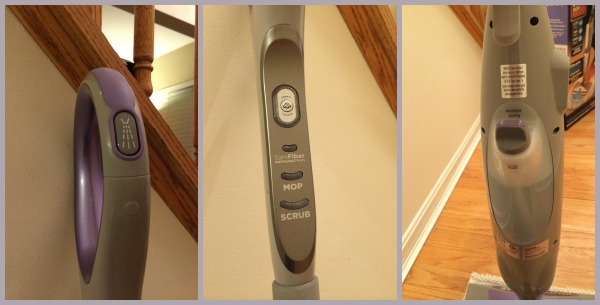 Shark Pro Steam & Spray Mop: Where to Purchase
Would you like to purchase this awesome mop and steamer for your home? You can purchase the Shark Steam & Spray Pro on the Shark website. This awesome steam mop retails for $199.99, but is currently on special for $159.90 + shipping and handling. You can also find the Shark Pro Steam & Spray Mop on Amazon.com and take advantage of their special offer and free shipping if you are a Prime member!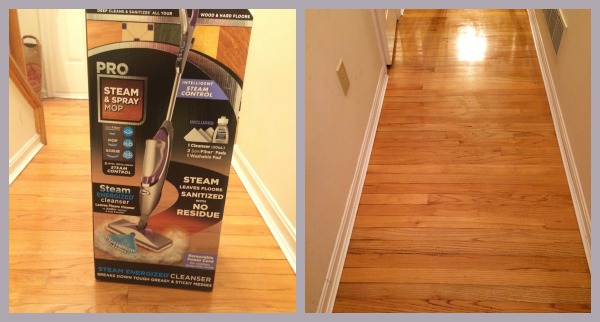 Note: If you are an owner of one of these units and have issues, make sure to contact their customer support at 800-798-7398.
Disclosure: Budget Earth did not receive compensation but did receive products for review purposes. All opinions on this product are my own and may differ from our readers' opinions.
Would you like to have your products featured in a giveaway event? Want to increase your social media exposure this holiday season? See how Mom Powered Media can help! Contact susan.l.bewley@gmail.com to see what we can do for your company!