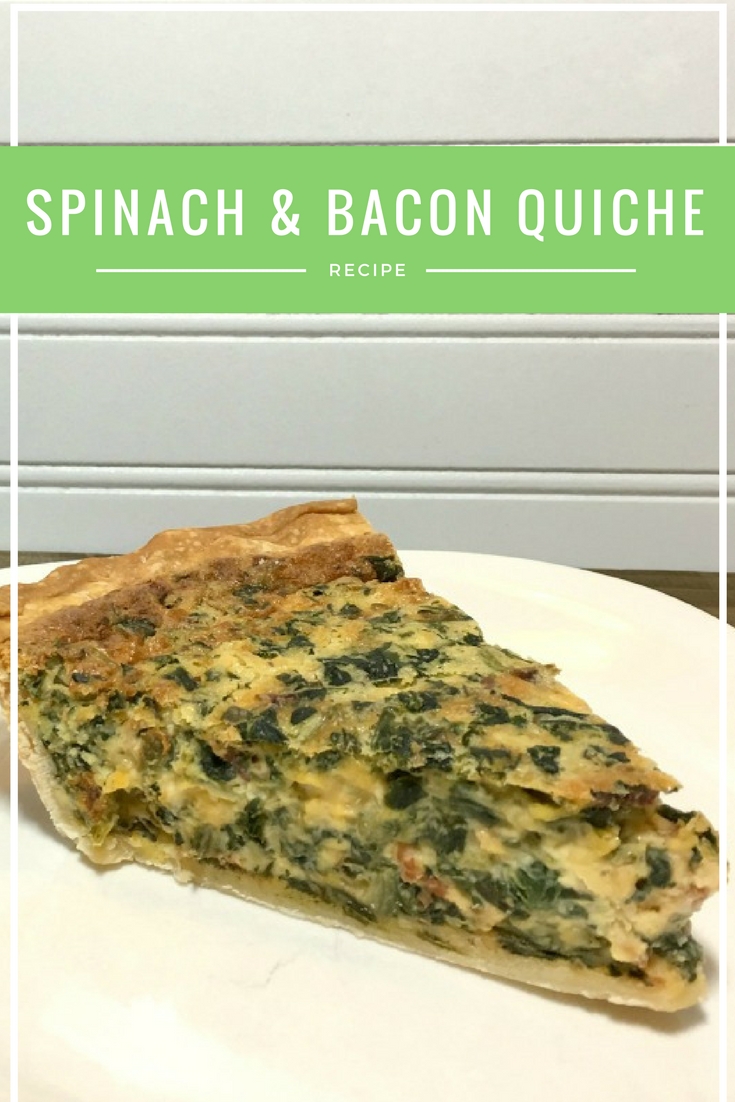 Do you ever have days when you don't feel like cooking? That was me this past weekend. Sure, I had plenty of things I should be cooking but most of it was very time consuming and I knew I was starting to get sick. To make matters worse, I had an oversupply of eggs bought for the holidays, as well as bacon that ended up not being used. Since I don't like wasting food, I was determined to find something I could make with all these ingredients. Seeing what I had in the kitchen, I went with the best thing I could think of – an impromptu quiche.
While I had various quiche recipes in the house, I didn't have all the fancy ingredients in the house for most of them. Since I knew the basics of a quiche, I decided to just make a fun recipe from the top of my head, hoping to use what we had in the fridge. After quickly mixing everything together, I put it in the oven and hoped, using the normal temperature and cook time I had used for other quiches in the past. In all honesty, my husband was nervous but hoped for the best, knowing that worst case, I at least tried.
Once it was time for dinner though, we both were eager to try it. The end result, I must say, was truly out of this world. The right mix of flavor, cheesiness, and an amazing flavor that left us satisfied. Best of all, it was very filling, making it a perfect breakfast or dinner! With how great the recipe I turned out, I quickly grabbed my camera. I knew I had to share it with you guys. Not only is it one of the easiest quiche recipes I have ever made, but truly looked beautiful, making it a recipe to impress guests.
Love quiche? I'd love for you to tell me what you think of our Spinach and Bacon Quiche below, or to hear your suggestions for next time!
Print
Spinach & Bacon Quiche Recipe
An easy to make quiche recipe for the nights when you don't feel like cooking anything too fancy.
Author:
Prep Time:

10 mins

Cook Time:

30 mins

Total Time:

40 mins

Category:

Breakfast

Cuisine:

Quiche
1

Bake Yourself Pie Crust

6

strips cooked bacon, crumbled

4

large eggs

1 1/2

cups

heavy cream

1 1/2 teaspoon

dried thyme

1/2 teaspoon

peppers

1/2 teaspoon

of salt

1

cup

shredded sharp cheddar cheese

1

Package of frozen Spinach (thawed)
Instructions
Preheat the oven to 375 degrees.
Prepare pie crust as directed. I use the Pillsbury pie crust (safe for those with corn allergies in my family).
In a bowl, mix the eggs, cream, salt, pepper, and thyme. Make sure it is mixed thoroughly.
Add the cheese and bacon to the egg mixture, mix thoroughly.
With paper towels, dry the spinach of any liquid from the cooking process (I use the steam bag spinach that can be cooked in the microwave). Once dry, mix into the egg mixture.
Pour egg and spinach mixture into the cooked pie shell. Bake for 30 – 35 minutes. When finished, poke it with a knife – it should come out clean.
Allow to set for 30 minutes to an hour before serving.