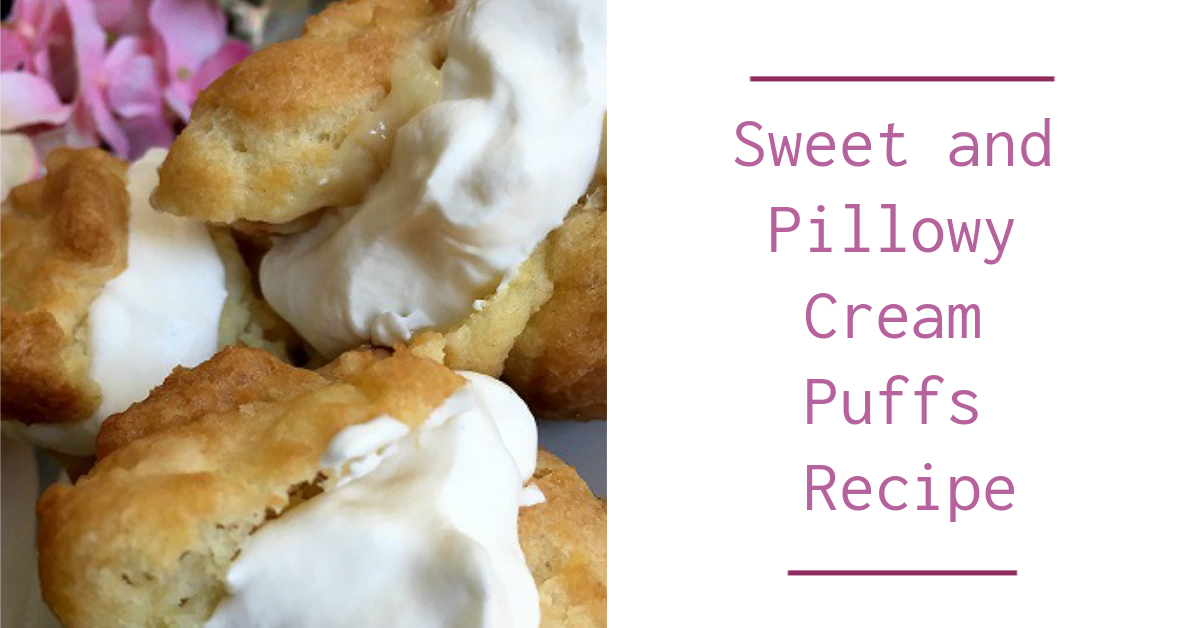 Adapted from Good Dinner Mom.
Fluffy, sweet, and absolutely dreamy…don't you just want to fall asleep on those clouds of whipped cream?
You guys know I love posting lightened up, healthier versions of recipes but sometimes you really just need to treat yourself. Perhaps an unpopular opinion, but certain situations call for a REAL dessert and these melt-in-your-mouth pillowy clouds of heaven fit the bill! Plus, the recipe uses ingredients you likely already have in your kitchen. Please don't let the long list of directions fool you – these babies come together very easily (and surprisingly quickly) to create a beautiful summer dessert that is sure to impress. No excuses, just please go and make these now.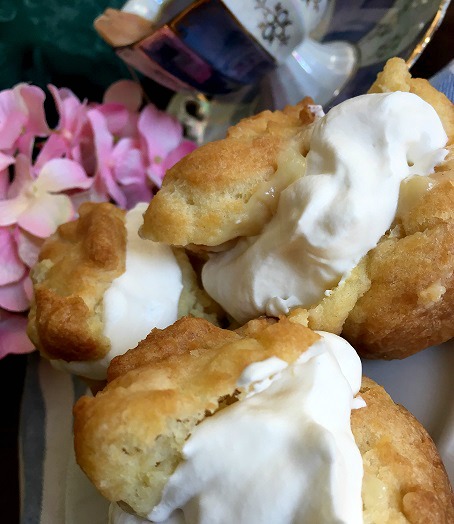 INGREDIENTS
For the cream puff shells:
1

 

c

 

water

1/2

 

c

 

butter (

1 stick)

1

 

c

 

all-purpose flour

4

 

large eggs
For the custard cream filling:
3/4

 

c

 

sugar

1/3

 

c

 

all-purpose flour

1/2

 

t

 

salt

2

 

c

 

milk,

 

heated to warm

4

 

egg yolks,

 

beaten

2

 

t

 pure 

vanilla extract
For the fluffy whipped cream clouds:
1/2

 

pint

 heavy 

whipping cream

2 T granulated sugar

Pure vanilla extract, to taste
DIRECTIONS
For the cream puff shells:
Place an oven rack one slot below the center and preheat oven to 400F.
Set aside a regular aluminum 12-cup muffin pan* and very lightly butter it.
Over medium-high heat, bring water and butter to a low boil in a medium sauce pan. Reduce heat to medium-low and then add flour, stirring well until the mixture forms into a ball.
Remove from heat and stir in eggs, one at a time, beating with a spoon until dough is smooth.
Beat dough an additional 10 to 15 seconds to increase volume.
Divide batter evenly among the muffin cups and bake in oven 25-35 minutes, or until puffed and golden brown.*
Remove from oven and cool completely.
For the custard cream filling:
Whisk the 4 egg yolks in a medium-sized bowl and set aside.

In a medium saucepan, mix together sugar, flour and salt.

Stir in warm milk and cook over medium heat, stirring frequently until the mixture thickens and bubbles. Once it begins to bubble, cook one more minute while continuing to stir.

Remove pan from heat and quickly whisk half of the milk mixture into the beaten egg yolks.

Blend the egg yolk mixture back into the rest of the milk mixture in the saucepan. Whisk constantly until mixture begins to bubble again, then continue to cook and whisk for another 30 seconds.

Remove from heat and add vanilla. Set aside, cover with plastic wrap or foil and allow to cool completely (I like to finish cooling mine in the fridge). The custard continues to thicken as it cools.
For the sweetened whipped cream:
This part is easy! Freeze a metal bowl in your freezer for about 15 minutes so that it's nice and cold. Then, add the heavy whipping cream and 2 T of sugar to the bowl. Whip it with a whisk or egg beaters and add vanilla to taste if you like!
Assembling the cream puffs:
Cut off the shell tops and scoop out the moist insides of the top and bottom to make room for the filling.

Add a nice dollop of the custard cream to the bottom of the puff. Top the custard with a generous amount of the whipped cream.

Replace the top of the shell and loosely cover the puffs with aluminum foil.  Place your puffs in the refrigerator, chilling for at least 4 hours. You can even assemble them the night before you want to serve them, as they actually taste better with time.*

*Note 1: Do not use a dark non-stick pan: your puffs will be much bigger with a regular silver tin pan!
*Note 2: Like with my popovers, it's important for the shells to be golden and crisp otherwise they may collapse and deflate. Even if they look done, I like to leave them in for a minute longer.
*Note 3: If you'd like to transport your puffs to an event, feel free to leave them in the muffin tins. Just lightly cover them with foil and they're ready for travel!

Wishing you pleasantly sweet dreams of fluffy whipped cream…

---