For the past few days, I have been having a bad craving for a salad. My husband, most of the time, isn't that much of a salad fan, since he eats them at work when I don't pack him a lunch of healthy leftovers. I was actually quite surprised when I found that most people don't eat salads, since I grew up having them at least once a week for dinner, and typically ate them when I was living with friends as a single lady. To me, a good vegetarian salad recipe meant a night of relaxation and healthy eating when I just didn't feel like cooking.
I think part of the reason is that salads have earned a reputation of being bland, or downright unhealthy if you get them in a restaurant. Actually, most of the salads I have seen at a restaurants do look rather disgusting. Part of the reason is that people just don't know what vegetables to put in a salad. Everyone just assume that a salad is throwing a bag of lettuce in a bowl and drown it in salad dressing. Personally, I think that is part of the problem too -if you make a salad right, it should have a great deal of flavor, with the dressing being a nice compliment, NOT the main ingredient!
One of my most favorite vegetarian dinner recipes is my fruit salad. I have never really been sure what to call it – some consider it a Caribbean salad, some a tropical salad, but to me, it's just plain yummy! Like most foods, a salad should always look appealing. Don't just get a bag salad, throw some dressing on it, and call it done. A good vegetarian dinner salad recipe will incorporate a variety of different vegetables and fruits into the salad, creating a very colorful dish that is appealing to not only your stomach, but your eyes.
Personally, I am very big into experimenting with different types of salads, but this by far my most favorite vegetarian dinner salad recipe. With the combination of vegetables and fruits, you are going to have a very nutritious salad that will be far from bland! Even better, top it with my favorite honey lime dressing, and you will be ready for a fun, relaxing movie night on the couch! Who knew that a salad could really be so delicious and appealing?
Colorful Caribbean Salad Recipe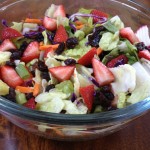 Yield:

2 Servings

Prep:

10 mins
Ingredients
1 Bag

Garden Salad

lettuce, carrots, radishes, and greens

1/3 Cup

Dried Cherries

1 Medium

Orange

Wedges cut in quarters

1/2 Cup

Fresh Strawberries

Cut in quarters

1 Bundle

Scallions

1 Medium

Tomato

(optional)

1/3 Cup

Raisins
Instructions
Thoroughly wash your bag of lettuce. After I have washed the lettuce, I put it in a salad spinner to get all the access water off. This will keep your salad from getting soggy! Note: If you are cutting up your own veggies, I recommend romaine lettuce, endives, radishes, carrots, and spinach.
Once the salad green are dry, cut up all of your fresh fruit and place in the salad greens. Mix everything well, but don't damage the fruit. This will allow the extra fruit juices from your fruit to coat the salad.
Cut up your scallions. I usually buy them in a bench of about three or four scallions. Clean thoroughly and cut up. Throw away the bottom root. (or use if you prefer. I don't in this recipe)
measure your dried fruit and place in the salad.
Cut your tomato and place on top of the salad. I cut my tomatoes in small slivers to make them easier for eating. Note: I do not have tomatoes in the picture since Daniel hates tomatoes. When I make this for lunch, however, I always put tomatoes in the salad )
Portion salad into your preferred dish. Serve with your favorite dressing (we recommend our honey lime dressing) or fresh fruit juice.