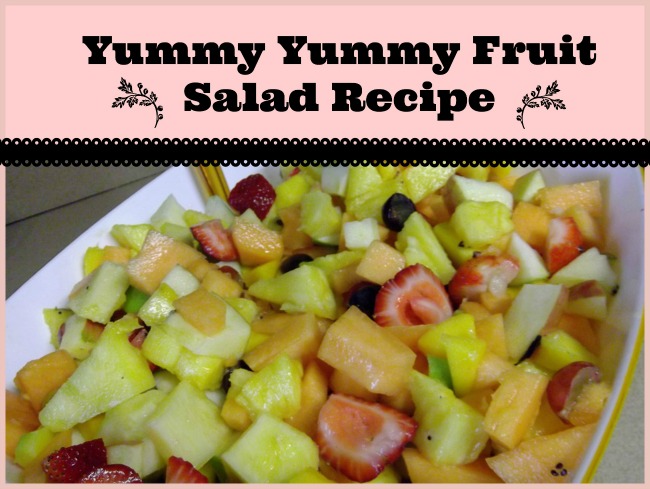 This is one of the healthiest, simplest recipes my family makes.  In fact, it is so simple it seems almost silly to call it a recipe.  I've written before that my favorite birthday dessert is angel food cake, but when my family asks what regular dish I'd like I always choose fruit salad.  Since school ended, we have already made this recipe four times.  It is that good.  It's also a fun family recipe to get your kids or other family members involved.  It's great for bonding time, and enlisting some help also aids in cutting down on the amount of time it takes to chop all the fruit.
You can substitute canned (or possibly even frozen) fruit, but I've found that fresh is always best for this recipe.  It seems like canned fruit always has a bit of a tinny taste.  Similarly, you can use or substitute a wide variety of fruits for any of those listed – it just so happens this is my family's favorite mixture.  I like to use 1 granny smith and 1 fuji for the apples, and a combination of red, green, or purple grapes.  Honeydew melon is also a great touch, although we didn't have any in the fridge for this batch.  Feel free to use whatever fruits you have on hand, or whatever needs to be used up in your fridge (although I wouldn't recommend using bananas in this recipe).
Fruit Salad (Yummy, Yummy)
Ingredients
1 to 2 apples
1 pineapple
2 kiwis
1 mango
1 heaping cup grapes
1.5 c strawberries
1 cantaloupe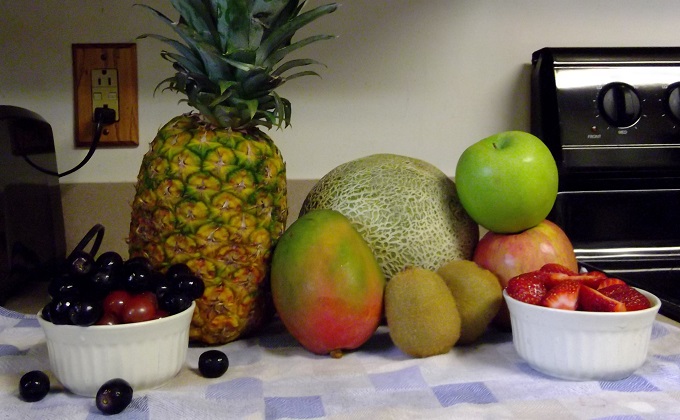 Directions
Wash the fruit, then chop all ingredients into bite-size pieces.
Throw into a large bowl.
Stir to mix.
Our fruit has often already chilled in the fridge before we make this, so it's already cold.  However, if you've just bought the fruit at the store or it's not cool enough for your liking just yet, you can make the recipe and then stick the bowl in the fridge to chill.